Eat Right Bite by Bite This Month
Find this article at:
go.ncsu.edu/readext?657600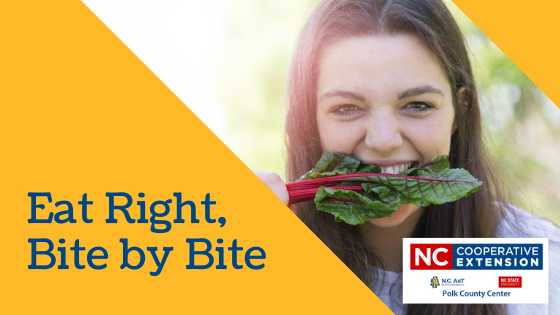 Choosing nutritious foods and getting enough physical activity can make a significant difference in your overall health. For National Nutrition Month in March, the Cooperative Extension encourages people to make informed food choices and develop sound eating and physical activity habits.
This year's theme, 
Eat Right, Bite by Bite
, promotes eating a variety of nutritious foods every day, planning and creating healthful meals each week, and being mindful of the food you choose to eat.
Make Family Mealtimes a Priority
When you plan healthy meals in advance, you are more likely to include a wide range of healthy items. Research shows that children who eat with their family tend to have a healthier diet. With busy schedules it can be hard to sit down for a family meal, but even one or two nights a week can have a positive effect.
How to Include More Fruits and Vegetables
Planning healthy meals isn't difficult if you make fruits and vegetables the focus ingredients. They are a great way to add color, flavor and texture plus vitamins, minerals and dietary fiber. Make 2 cups of fruit and 2 ½ cups of vegetables your daily goal. Try the following tips to enjoy more fruits and vegetables.
Variety abounds when using vegetables as pizza topping. Try broccoli, spinach, green peppers, tomatoes, mushrooms and zucchini.
Mix up a breakfast smoothie made with low-fat milk frozen strawberries and a banana.
Make a veggie wrap with roasted vegetables and low-fat cheese rolled in a whole wheat tortilla.
Try crunchy vegetables instead of chips with your favorite low-fat salad dressing for dip.
Grill colorful vegetable kabobs packed with tomatoes, green and red peppers, mushrooms and onions.
Add color to salads with baby carrots, grape tomatoes, spinach leaves or mandarin oranges.
Place colorful fruit where everyone van easily grab something for snack -on-the-run.
Stuff omelet with vegetables. Turn any omelet into a hearty meal with vegetables and low-fat cheese.
Wake up to fruit. Make a habit of adding fruit to your morning oatmeal, cereal or yogurt.
Add grated, shredded or chopped vegetables such as zucchini, spinach and carrots to lasagna , meat loaf or pasta sauce dishes.
These are just a few ideas to help you get started on building a healthy habit lifestyle. For more tips visit these two helpful websites: 
Eat Smart Move More NC
 and 
Eat Right
 where you will find tips on eating a variety of nutritious foods every day.