Website Considerations for Farmers and Agribusinesses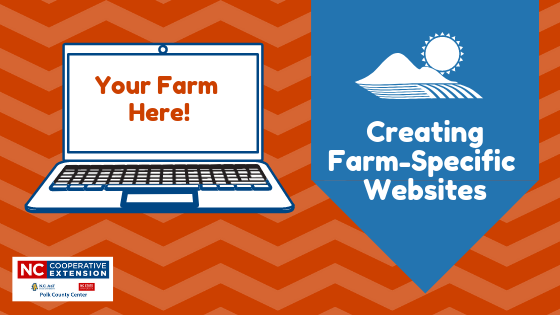 If this is your first time "out to pasture" as a consumer-targeted farm business, then setting up a website is probably high on your to-do list. Perhaps, though, you've had a website in place, but it needs an update or isn't getting the results you'd like to see.
When it's time to boot (or reboot) your internet real estate, the old adage "work smarter not harder" definitely applies. In this post, I'll share with you the chief considerations to take into account when creating or upgrading a website for a small farm or agribusiness.
Do You Even Need a Website?
The truth is that not every agribusiness needs its own website. If you only offer one product, for example, or if your season is very short, it might make more sense for you to create a listing on an already established site rather than creating your own website. In the Polk County area, you might look into getting placement in:
Standalone Websites for Farms and Agribusinesses
If you operate 12 months out of the year or if your business has multiple products to sell, though, a dedicated web space for your farm or agribusiness is probably the way to go. If this is the case for you, it's important to consider each of the following:
Webhosting
Even if you own your own farm, you're still a renter. A renter of space on the web, that is. The "landlord" in this instance is a webhost- -and the cost of the "rent" depends on your specific needs and priorities. But keep in mind that cheaper is NOT always better. Your host should offer:
Security

Regular maintenance and updates

Adequate speed

Ease of use (particularly if you are not technically savvy)

Customer service

Backup features (in case something ever goes wrong and you lose your website info and data)

Tools that help you build your website–including e-commerce tools for selling online.
E-commerce Options
When deciding on the e-commerce system that will best meet your needs, there are plenty of things to take into consideration, such as:
Pricing structure (set monthly fee vs use-based vs pay-per-feature)

Security

Client experience (will it be user-friendly for the consumer?)

Payment options (how many options to consumers have for paying?)

Customization
Email Support
Will your host be able to offer a dedicated email system for customers to be able to contact you for support or with questions? Will it be customizable enough to handle different types of emails such as newsletters, event announcements, and will it allow you to segment your contacts into different groups depending on their interests?
With your particular farm or agribusiness in mind, go through all of these considerations one by one and make a "wish list" for your website. Then, when it's time to do the comparison shopping for platforms, you'll easily be able to filter out services that don't fit your needs and hone in on ones that will help you expand your marketing efforts and (hopefully) your sales!