Smoked Stuffed Peppers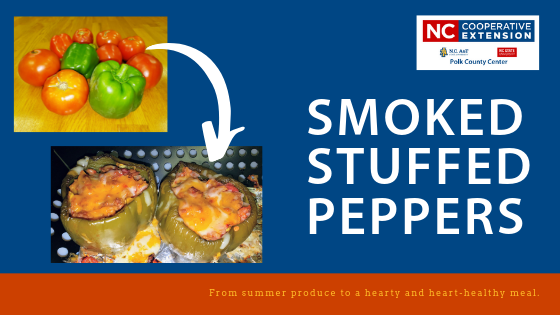 Peppers and tomatoes are bountiful in the Research Garden here at the Extension right now, so we've been trying to think of creative ways to use them. Having recently acquired an electric smoker, we decided that smoking stuffed peppers might be a delicious way to use that abundant produce!
The recipe below is one we created ourselves, but it has been taste-tested and is NC-Cooperative-Extension-of-Polk-County approved! As you might guess, we looked for ways to make the recipe healthy while maintaining that "yum" factor.
Ingredients
6 large bell or sweet peppers
1 c. brown rice
5-6 medium tomatoes
1 tsp salt
1 lb. ground turkey
1 onion, chopped
2 tbsp. of homemade taco seasoning spice (call 828-894-8218 or email Jimmi Buell to request the recipe for this healthy version of packaged taco seasoning mix)
cheese for topping (optional)
Directions
Preheat smoker to 350 degrees. Also preheat oven to 350 degrees.
Cut about 1/2″ top off of peppers and remove all seeds. Place peppers on a baking sheet in preheated oven for 20 minutes. Remove and set aside to cool.
While peppers are heating, cook rice according to package directions. Set aside.
Fill large stockpot about half full with water and bring to a boil. Drop tomatoes into boiling water and boil for 1 minute. Immediately remove tomatoes from water and drop into an ice bath to halt any additional cooking. The tomato skins can then be easily removed and discarded.
Cut skinned tomatoes into pieces and place in large saucepan. Sprinkle with salt. Cook over low to medium heat until softened and liquid is reduced to the consistency of tomato sauce. Break up any large chunks by stirring well.
Cook ground turkey and onion in large skillet until cooked through. Stir in 2 tbsp. homemade taco seasoning mix (or 1 package of store-bought taco seasoning mix).
Combine cooked rice, ground turkey, and tomato sauce in a large bowl.
Fill cooled peppers with mixture and place on foil-lined baking pan or grill pan.
Smoke at 350 degrees for 50 minutes.
If desired, top peppers with shredded cheese of choice and return to smoker for 5-10 more minutes until melted.